About us
The British Engineering Manufacturers' Association (BEMA) was founded in 1936 to benefit member companies with mutual help and assistance. Since then the Association has grown considerably and is now a company limited by guarantee, but still maintaining the same ethos of common co-operation.We are the largest engineering trade association in the South West of England with members operating as far north as Worcestershire and south to Cornwall, west into South Wales and as far east as Surrey. BEMA set up a training college to help members recruit and train apprentices and to combat the shortfall in trained, qualified engineers.
The History of BEMA

On the 5th March 1936, the first letter was sent out by John E Evans of The Ray Engineering Co Ltd. He wrote to 40 manufacturing engineers inviting them to a meeting to form the Bristol Engineering Manufacturers Association. Of those 40 there were 12 who responded. The first meeting was held on the 18th March 1936. The founder members were Llewellin's Machine Co Ltd, Ray Engineering Co, ESS Signs, Brecknell Willis, Strachan and Henshaw, Whitehead and Honey, E Richards and Co, R A Webber, Transport Brakes and Bristol Piping. At that time the fee to join was one guinea with an annual subscription of one guinea. £1.05 nowadays. BEMA's first home was in the box room at the house of John Evans in Filton Avenue.
2021
Portfolio of apprenticeships offered broadened to seven with the first starters starting in September 2021.
1937
The first handbook was produced.
---
1939
During the Second World War all companies pulled together and BEMA became a sort of clearing house to bring work into Bristol.
---
1940
BEMA at this point launched the Bulletin to complement the Directory.
---
1944
At the end of 1944 BEMA started to look towards Apprenticeships and produced its own indentures. During this year BEMA also put on a small exhibition at the Victoria Rooms. It attracted 45 stands and over 50,000 visitors.
---
1946
In July BEMA took the first steps in affiliation with the Engineering Industries Association. In September the offices of BEMA were opened in Stokes Croft. They were above the Constitutional Club in St Stephens Street.

---
1952
A Capacity Register was set up to assist with the subcontracting of work to different firms.
---
1958
In April BEMA moved offices again to lease part of the Royal London House in Queen Charlotte Street where it stayed for 21 years. During the Presidency of John Bagnall, the Golf Society Club was started and the trophy in his honour remains today.
---
1961
On 5th March a dinner was hosted by Council for the Past Presidents of the Association in celebration of 25 years.
---
1963
A committee was set up in Dorset and Hants.
---
1964
In July a committee was set up for Devon and Cornwall.
---
1976
In November a fund was launched to gain the funds to buy a property for BEMA. The Building was No 4 Broad Plain in Bristol.
---
1979
No 4 Broad Plain was opened by John Evans on 24th May 1979. In 43 years of trading this was to be the first building owned by BEMA.
---
1984
The first lady Sally-Jane Coode was elected to the BEMA Council.
---
1988
Sally Jane Coode became the first lady President of BEMA.
---
2003
BEMA sold 4 Broad Plain and moved again to Unit 1 Millers Court in Clevedon.
---
2012
BEMA moved its premises to Unit 5A Stover Road, Yate, South Gloucestershire, BS37 5JN.
---
2014
BEMA Training opened its workshop doors in 2014 to 12 apprentices employed by Broadway, DS Machinery, McBraida, Nylaplas, Ravenscourt and Reynolds.
---
2015
BEMA take on their first apprentices at the new training facility in Stover Road.
---
2018
Ben Townsend, a BEMA trained apprentice who works for Advanced Insulation in Gloucester, wins the national Intermediate & Advanced First Year Apprentice Award at the EEF Future Manufacturing Awards.
---
2019
Partnership with Swatpro Academy started to bring their expertise in Government Legislation and Policy changes to the apprenticeships.
---
2020
Henry Smart of Ravenscourt Engineering steps down as President of BEMA after eight years' service.
---
2021
The first of the New Standards Apprenticeship complete their End Point Assessments at BEMA.
---
2022
First students on Fitter (electrical pathway) using our new purpose-built facilities in the BEMA Training Centre.
---
Now and for the future
BEMA continues to develop and offer training and services for its members benefit. It offers a very hands-on apprenticeship training programme as well as new courses to support development and compliance of current staff.

Our latest is a programme for graduates to develop their practical skills to complement their academic knowledge. This allows BEMA members to employ a graduate to support their business needs while BEMA supports their practical need.
BEMA council
The Council of BEMA, like most trade associations is governed by the Articles of Association, which in turn is presided over by a governing council. The council is made up from members of BEMA who meet on a monthly basis to discuss the day to day running of the organisation and review such things as budgets, management accounts and the enrolment of new members.



Current Council Members
President


Council
| | |
| --- | --- |
| Bob Meredith | McBraida Plc |
| Paul Smith | D S Machining Services Ltd |
| Andrew Cunliffe | AJC Company Services |
| Rod Davis | Swatpro Ltd |
| Henry Smart | Ravenscourt Engineering Ltd |


Co-opted Members
| | |
| --- | --- |
| Malcolm Rae | McBraida Plc |
| Julian Smart | Ravenscourt Engineering Ltd |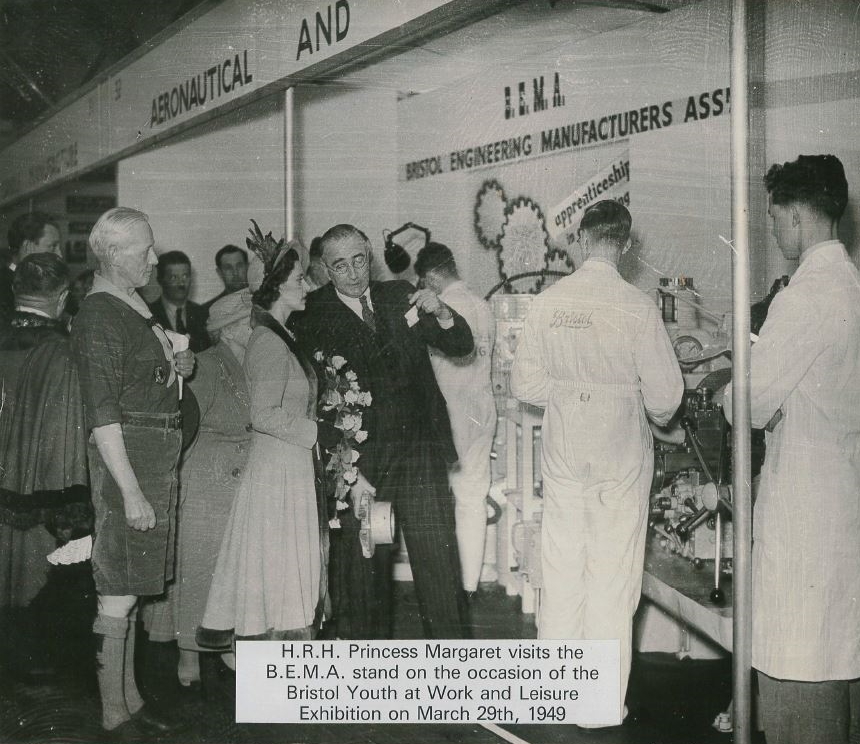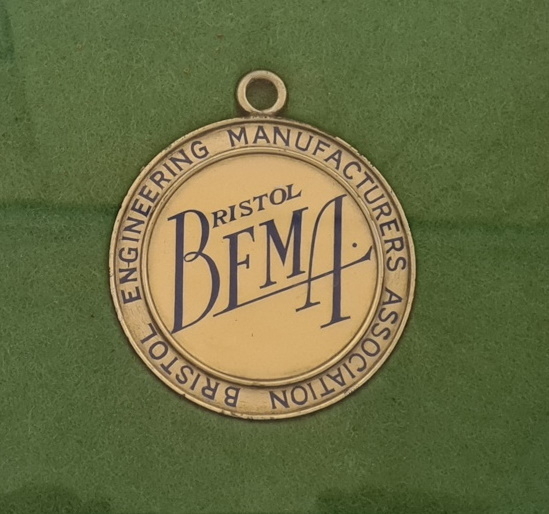 BEMA medallion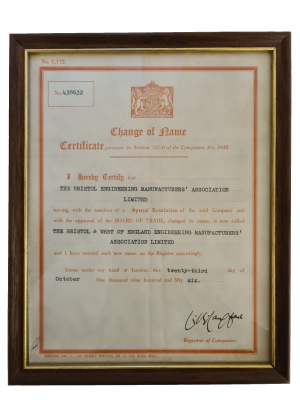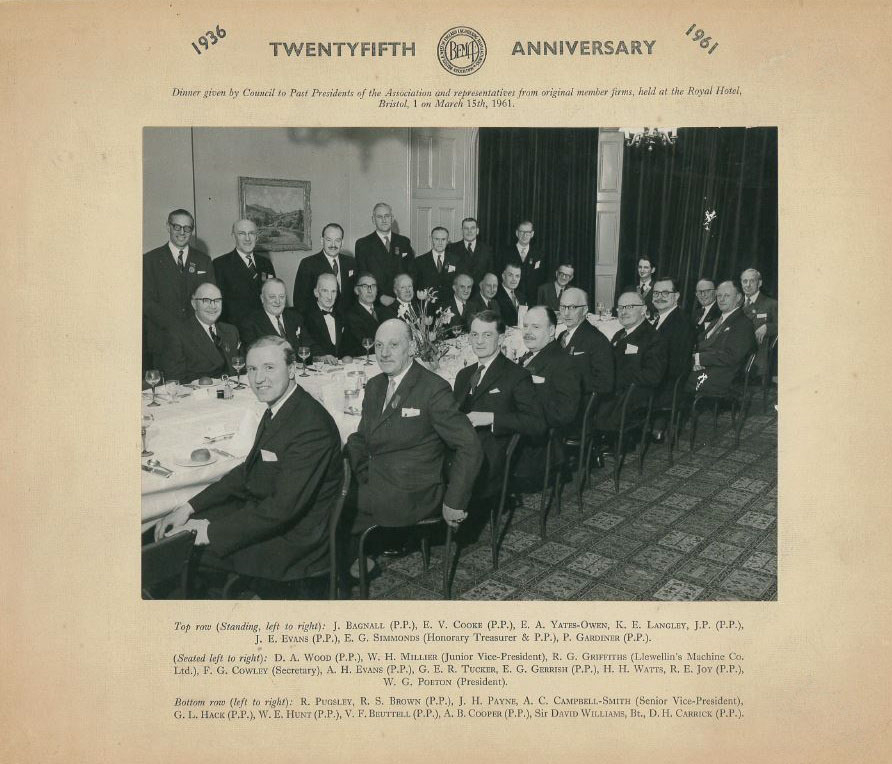 25th anniversary dinner at the Royal Hotel, Bristol on 15 March 1961